Accommodation
Special rates has been secured at Golden Bay Beach Hotel, Lordos Beach Hotel and Lebay Beach Hotel. Book your accommodation at these rates through the online registration system.
The below accommodation rates are per night and are inclusive of V.A.T. Breakfast is included.
*Half Double room can be selected by participants who wish to share a room with a colleague. Please note that it is participant's responsibility to find the person who will share the room with.
Click here to view location map
In case you require to extend your stay beyond the booking dates available, please contact us at info@easyconferences.eu
General Information
The Golden Bay Beach Hotel is a luxurious 5 star hotel situated in the favored south eastern region of Cyprus at the heart of the Bay of Larnaca. The hotel is just outside the town of Larnaca, only 15 minutes from Larnaca International Airport and 1 hour and 30 minutes from Paphos International Airport.
Rates
| | |
| --- | --- |
| Single Room | € 95.00 |
| Double Room | € 120.00 |
| *Half Double Room | € 60.00 |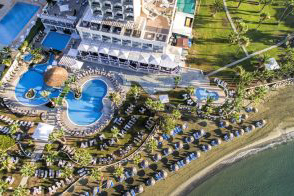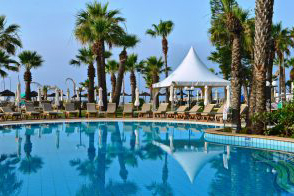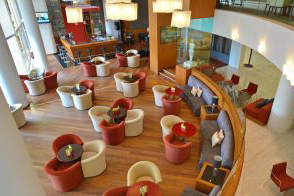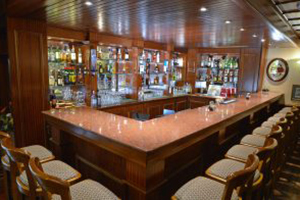 Accommodation
The hotel has 193 rooms including Standard, Deluxe and Suites that overlook the hotel swimming pool, sea or the city. All rooms include wireless internet connection, bathrobes, slippers, safety deposit boxes, mini bars, tea & coffee making facilities, multi-channel TV with local, satellite and Pay-TV channels, and balcony.
Food and Beverage
Within the Hotel there are 7 food and beverage outlets listed below:
The Etoiles Restaurant: Serves classic haute cuisine from France and Italy, with hints of the Near East and the Orient.
The outdoor Yacht Club: Guests can enjoy the beautiful sea view and a menu of international tastes.
Thalassa Restaurant: Offers a buffet of salads, meat, fish and pasta dishes and an extensive vegetarian menu.
Ouzeri Restaurant: Serves Meze dishes of classic Cyprus and Byzantine cuisine, in a Byzantine castle courtyard setting.
Cocktail Bar: The ideal place for casual meetings, with a great selection of coffees, signature cocktails, and snacks.
Shakespeare Pub: A traditional English pub, with a selection of beers, cocktails and quality food.
The Pool Bar: Features a wet bar area, and offers relaxing meals, fresh fruit juices, waffles, crepes and cocktails.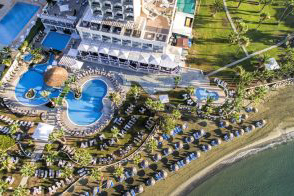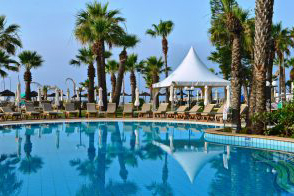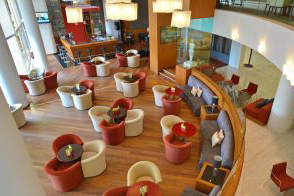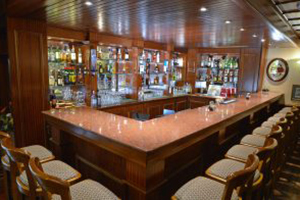 General Facilities
The Hotel features a Leisure club with a complete range of workout and leisure facilities. Including gym, aerobics, indoor and outdoor pool, sauna, steam bath, hairdressing salon, beach, water sports, mini club and tennis court.
General Information
The Lordos Beach Hotel is a 4 star hotel located on the sandy beach of Larnaca Bay and offers convenient access to Larnaca and beyond. Just 10 minutes from the city centre, 15 minutes from Larnaca International Airport, 30 minutes from the capital Nicosia and 5 minutes from the Dhekelia golf course.
Rates
| | |
| --- | --- |
| Single Room | € 80.00 |
| Double Room | € 92.00 |
| *Half Double Room | € 46.00 |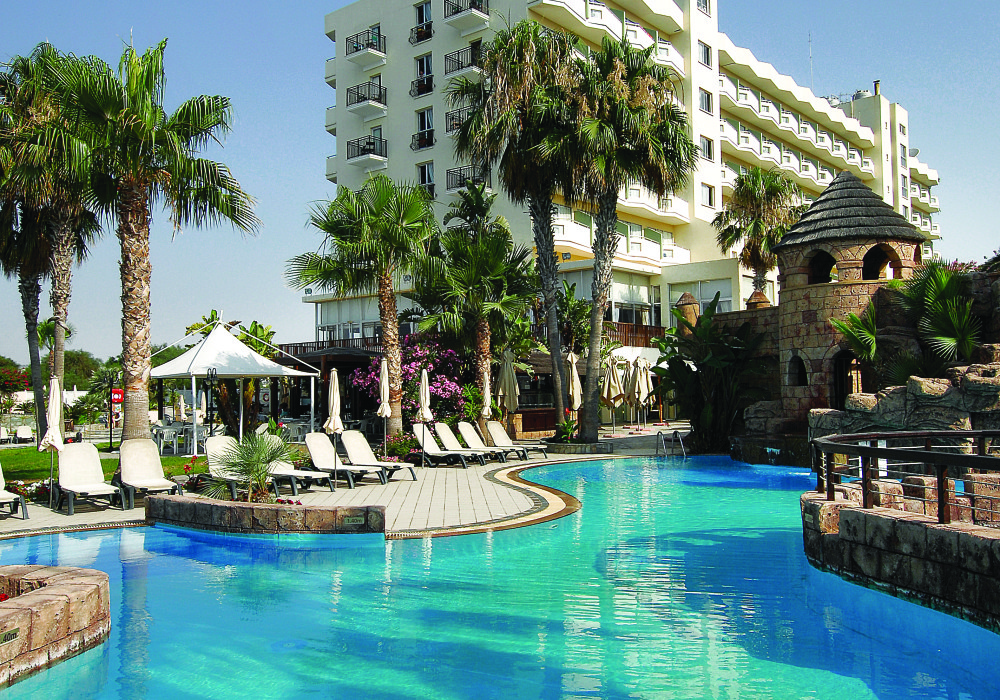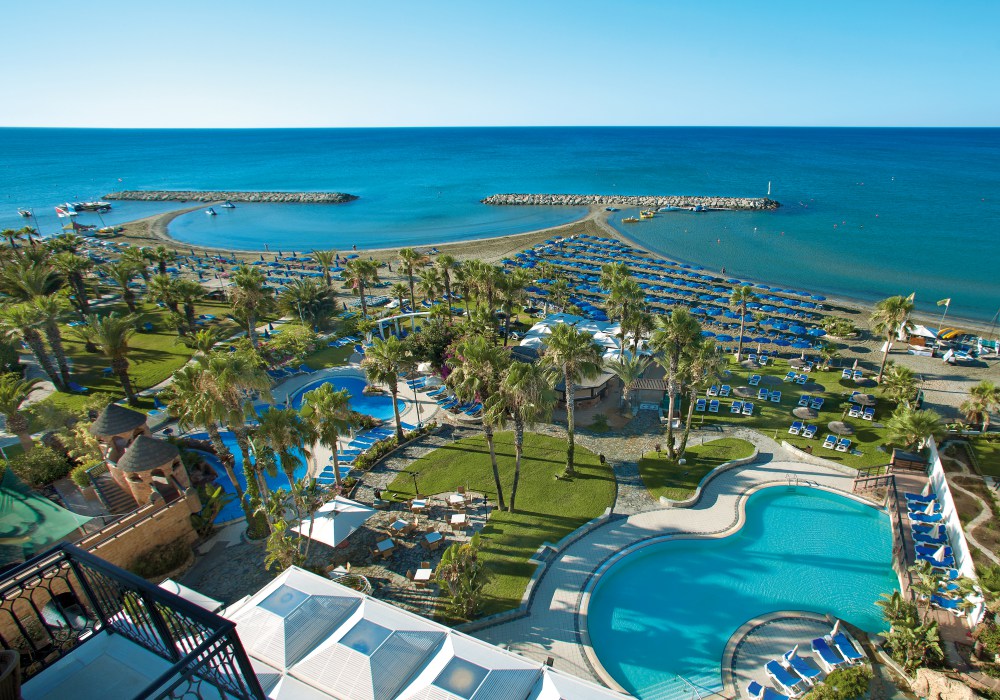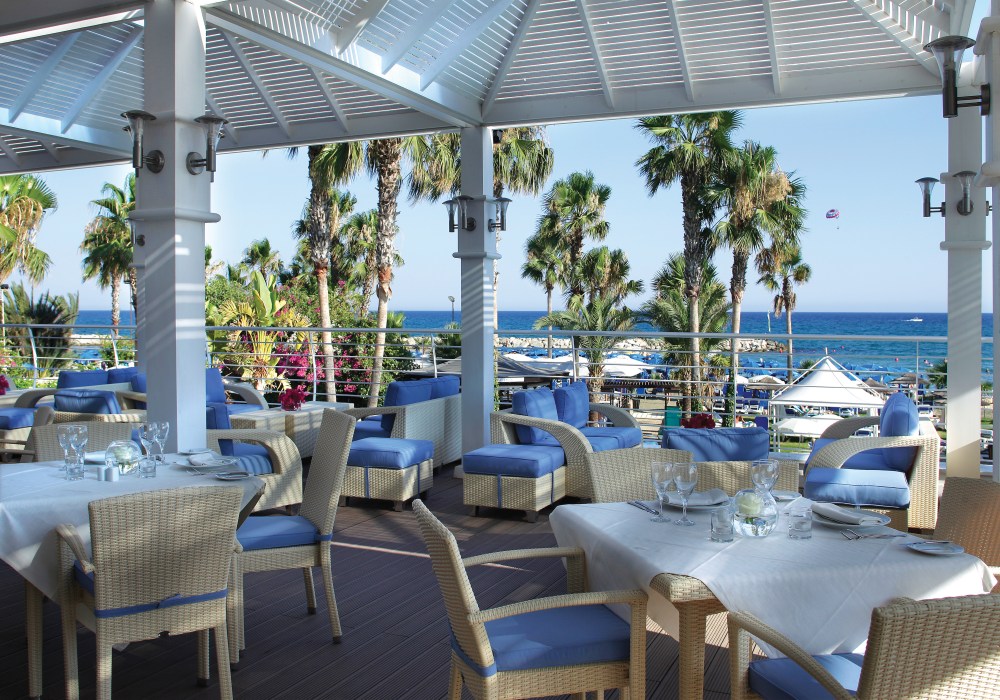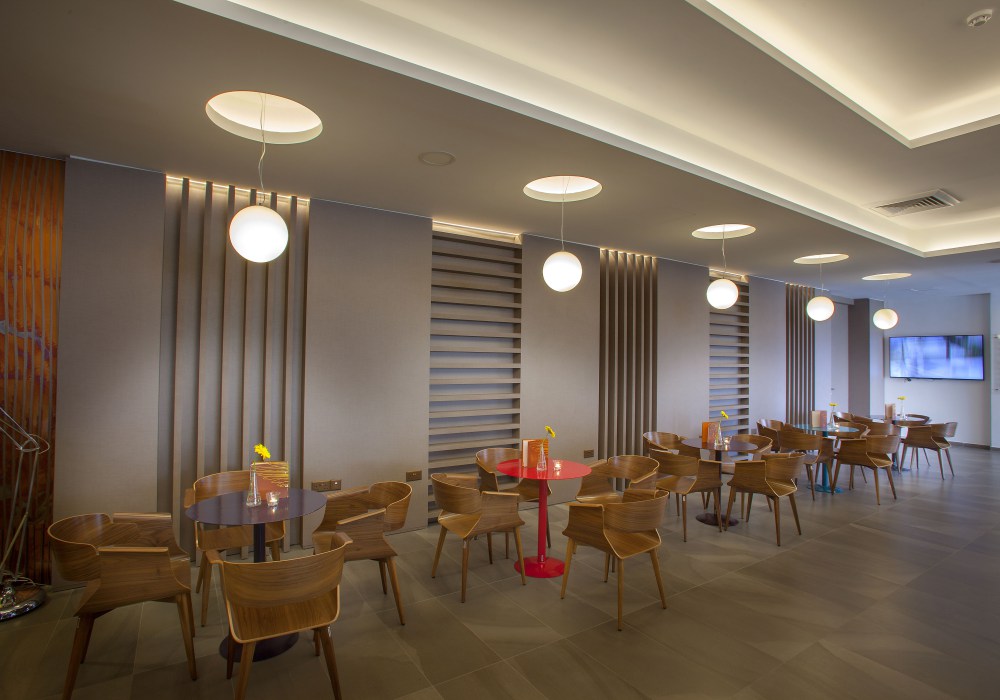 Accommodation
The hotel has 175 rooms elegantly designed to offer a comfortable and relaxing stay. All the rooms feature private balcony, air-conditioning, international direct dial telephone, mini-bar, radio, colour satellite TV, hair dryer, in-room safe deposit box and wireless internet access. Sea view and pool view is available upon request.
Food and Beverage
A wide choice of dining options will enhance your stay at the Lordos Beach Hotel. An enriched buffet breakfast, healthy choices and vegetarian options are available daily. The Atlantis Pool Bar and Restaurant, Poseidon Beach Bar and Sundeck Observatory offer outdoor refreshments and light dining, whilst the evening begins or ends in style at the Oceanis Table d'Hote and À la Carte Restaurant, or the Sirens Cocktail Lounge and Bar.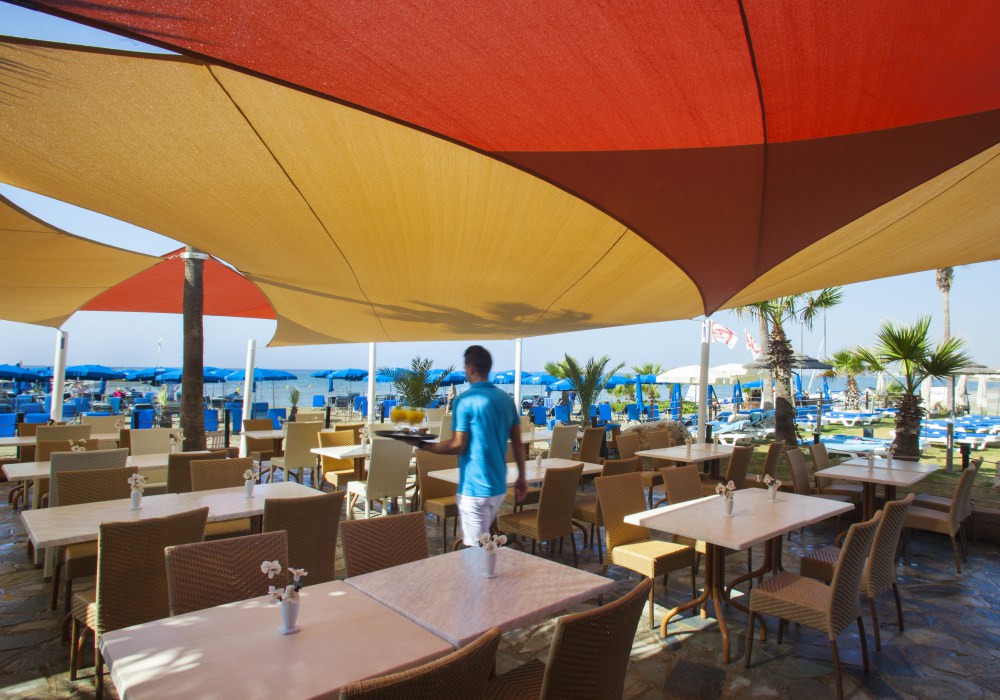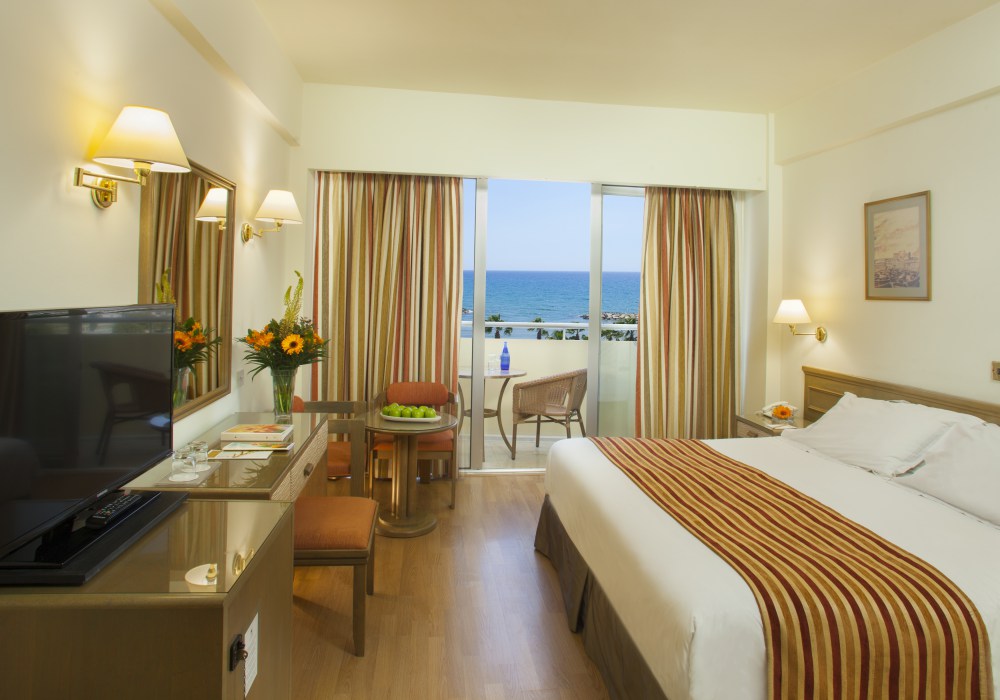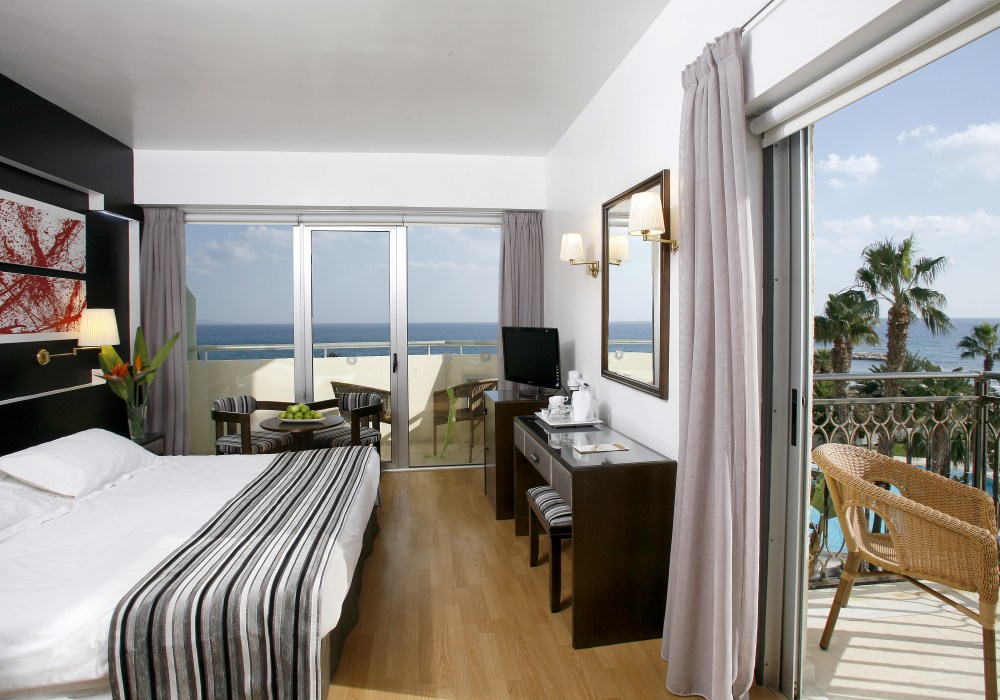 General Facilities
The Hotel features 3 outdoor swimming pools, 1 indoor swimming pool, jacuzzi, safe paddling pool, beauty treatments, tennis court, basketball, football and range of beach water sports.
General Information
Lebay Beach Hotel is only 10 minutes' drive from the town centre and its popular restaurants, bars and a bustling shopping centre. Airport transfers are effortless, as the hotel is only a 15-minute drive from Larnaca International Airport. It is located 5 km from Finikoudes beach, while CTO beach is at 2 km.
Rates
| | |
| --- | --- |
| Single Inland view room | € 62.00 |
| Double Inland view room | € 84.00 |
| Single Sea view room | € 70.00 |
| Double Sea View room | € 100.00 |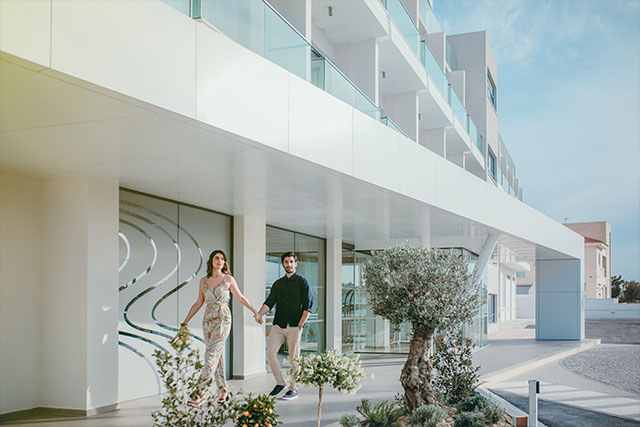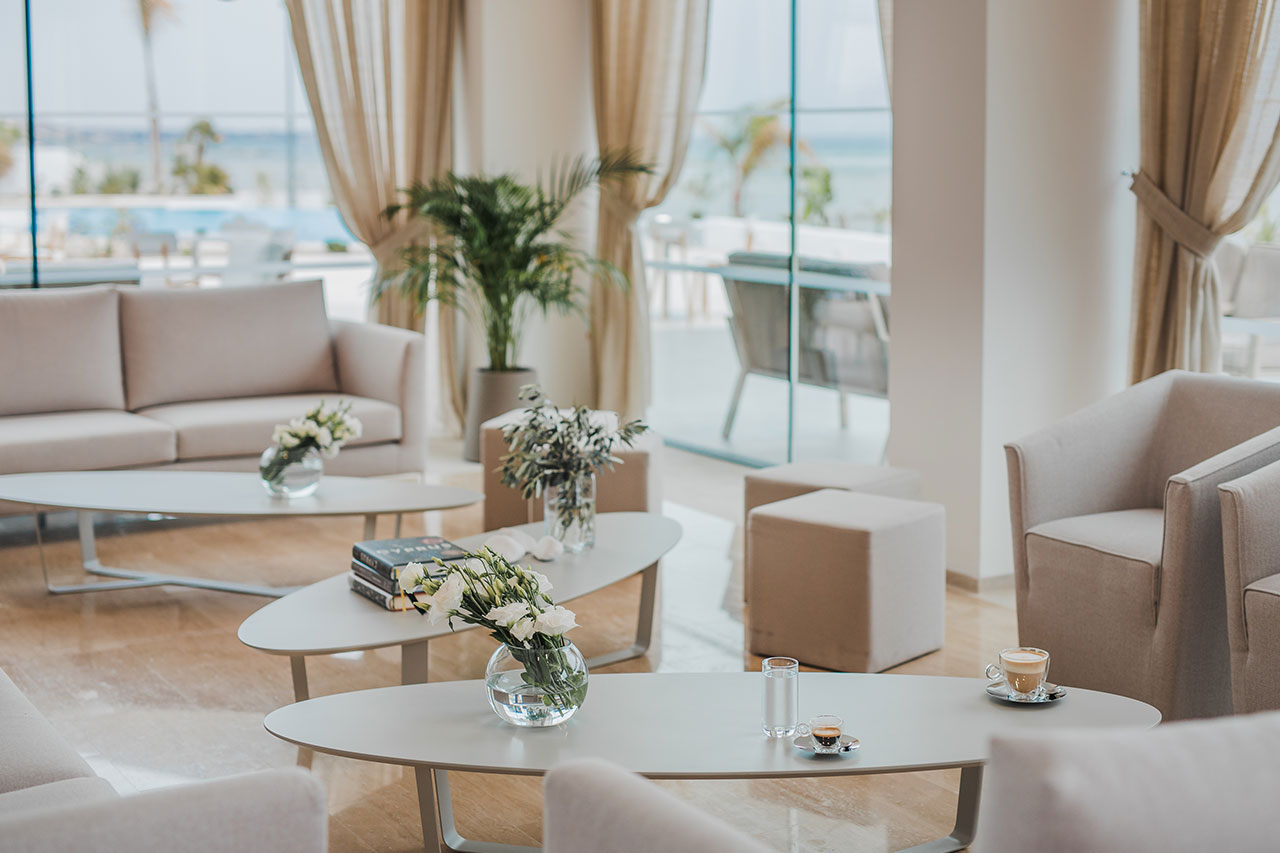 Accommodation
The hotel features 48 rooms across two floors, including disabled friendly suites and connecting rooms – all with stunning views or mountain views. The rooms provide sumptuous Coco-Mat pillows and ultra-lux mattresses, are all air-conditioned with a furnished balcony overlooking the Mediterranean Sea or the mountains. Each room comes with a bathroom amenities and a hairdryer. Room service is also available.
Food and Beverage
Enjoy the fresh flavours of sun-kissed local produce with a modern twist on the famed Mediterranean cuisine that was born to be shared. Big, hearty breakfast spreads lead to authentic specialties and popular international dishes throughout the day. Indulge your appetite or quench your thirst at the restaurant and bars of Lebay.
Within the Hotel there are: Marique Restaurant, Lobby Bar and 180 Pool Bar.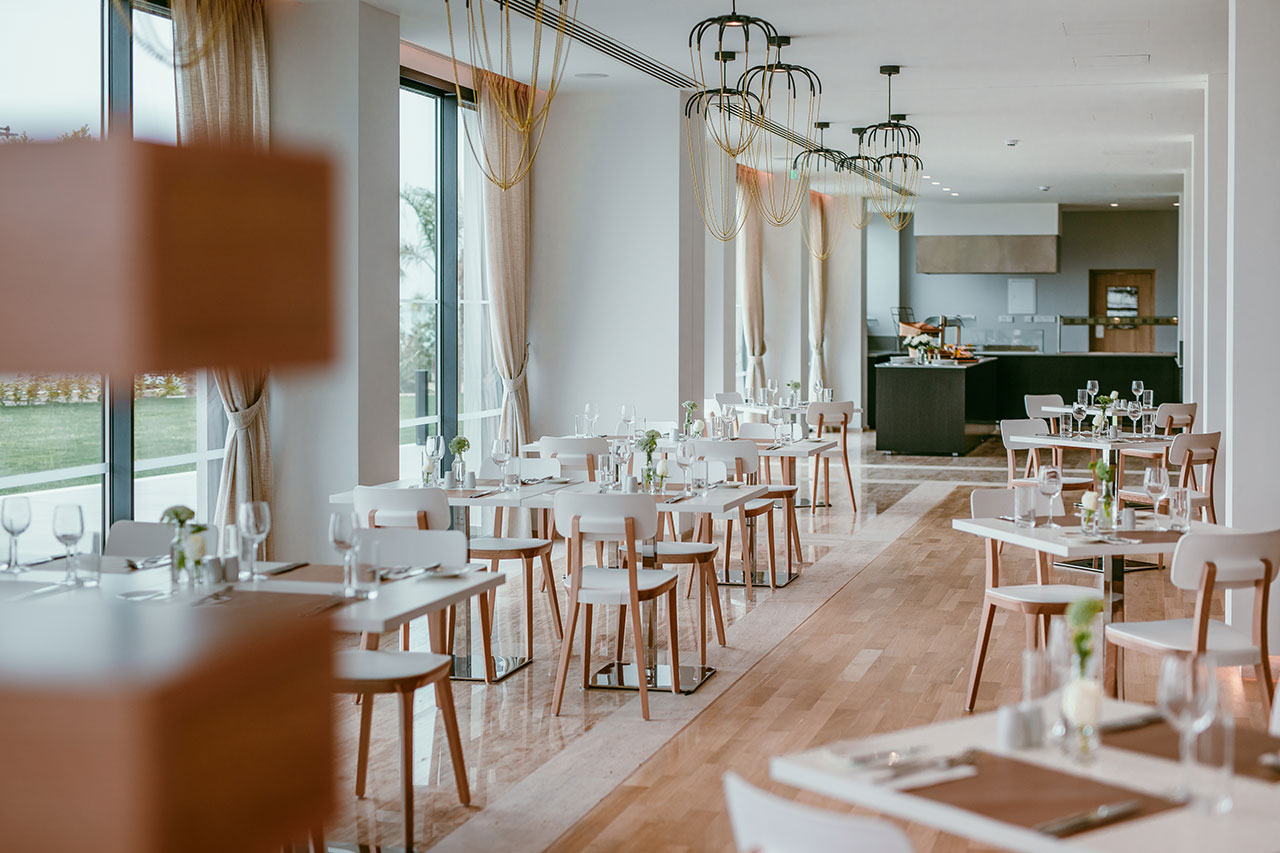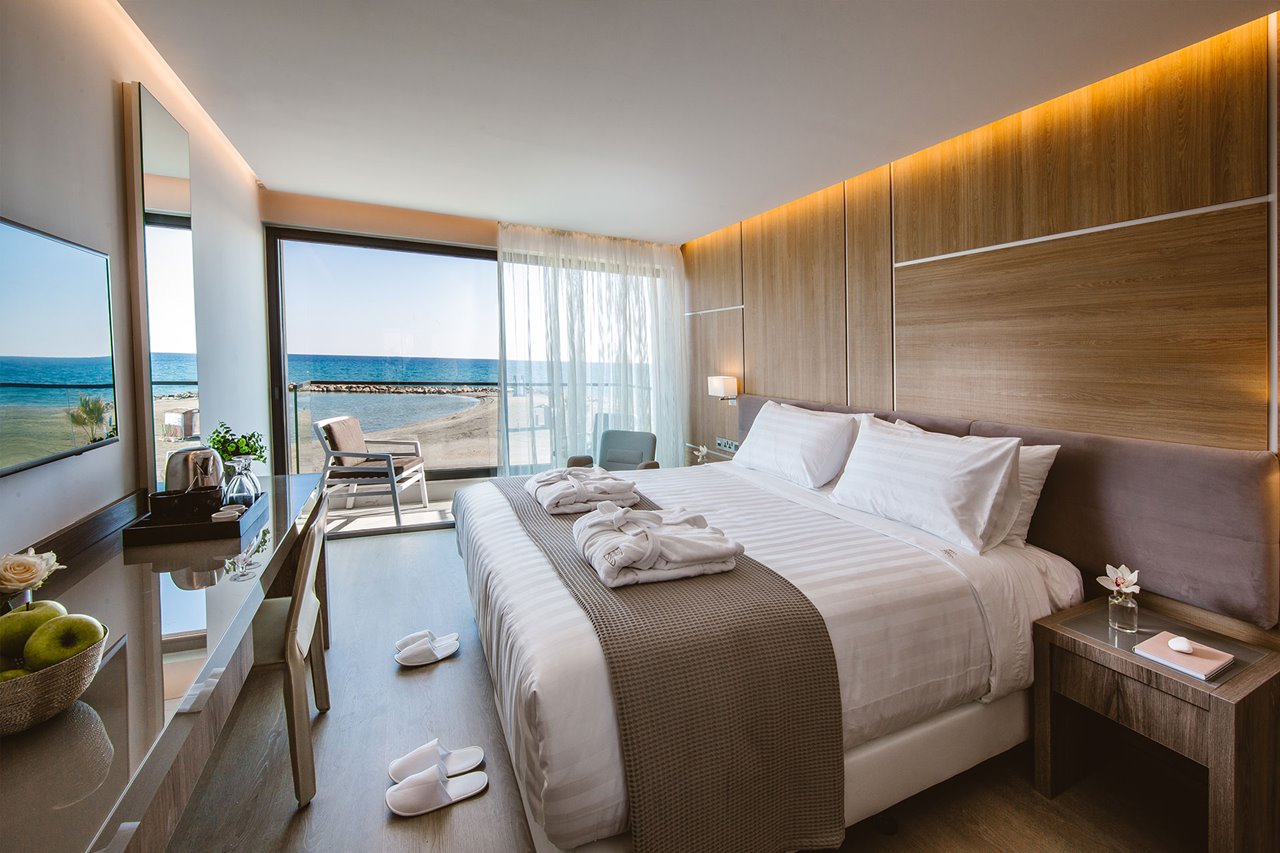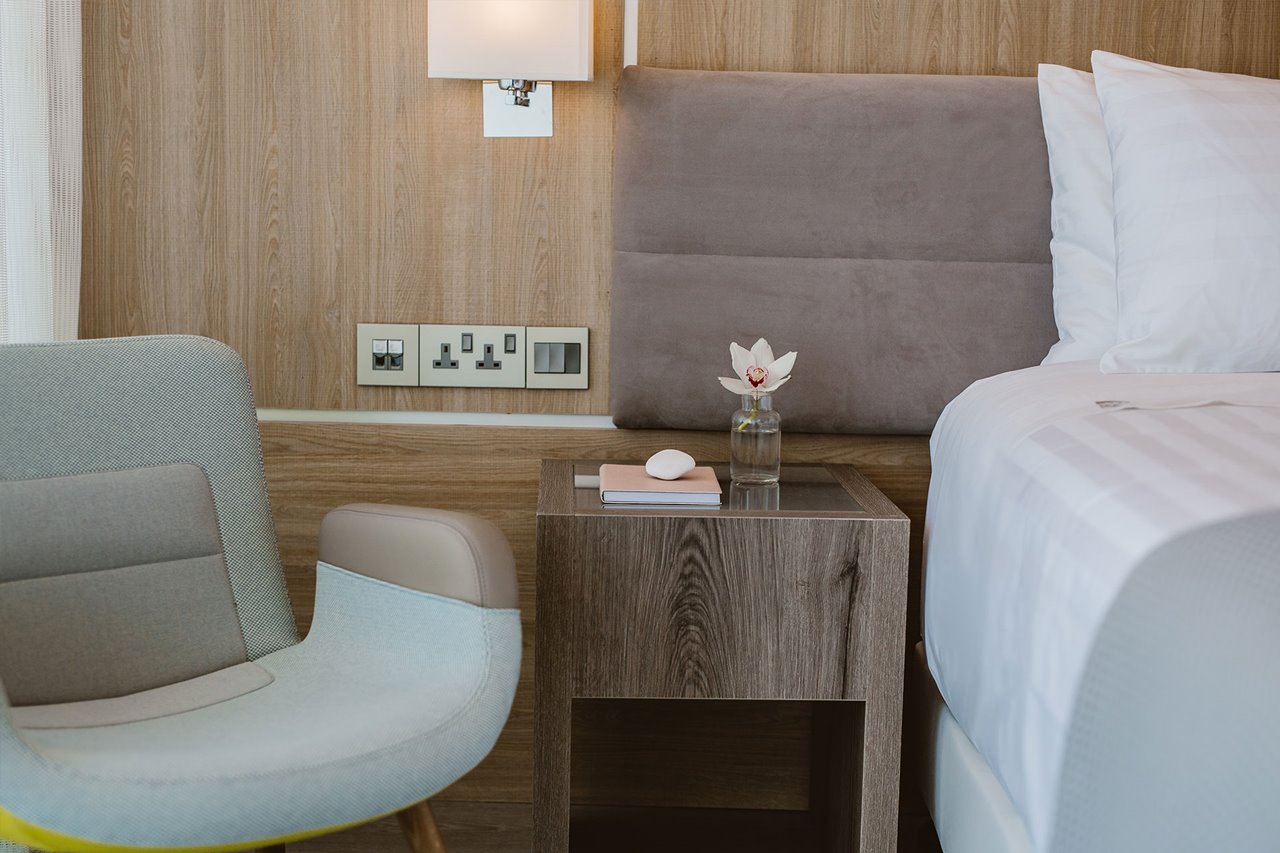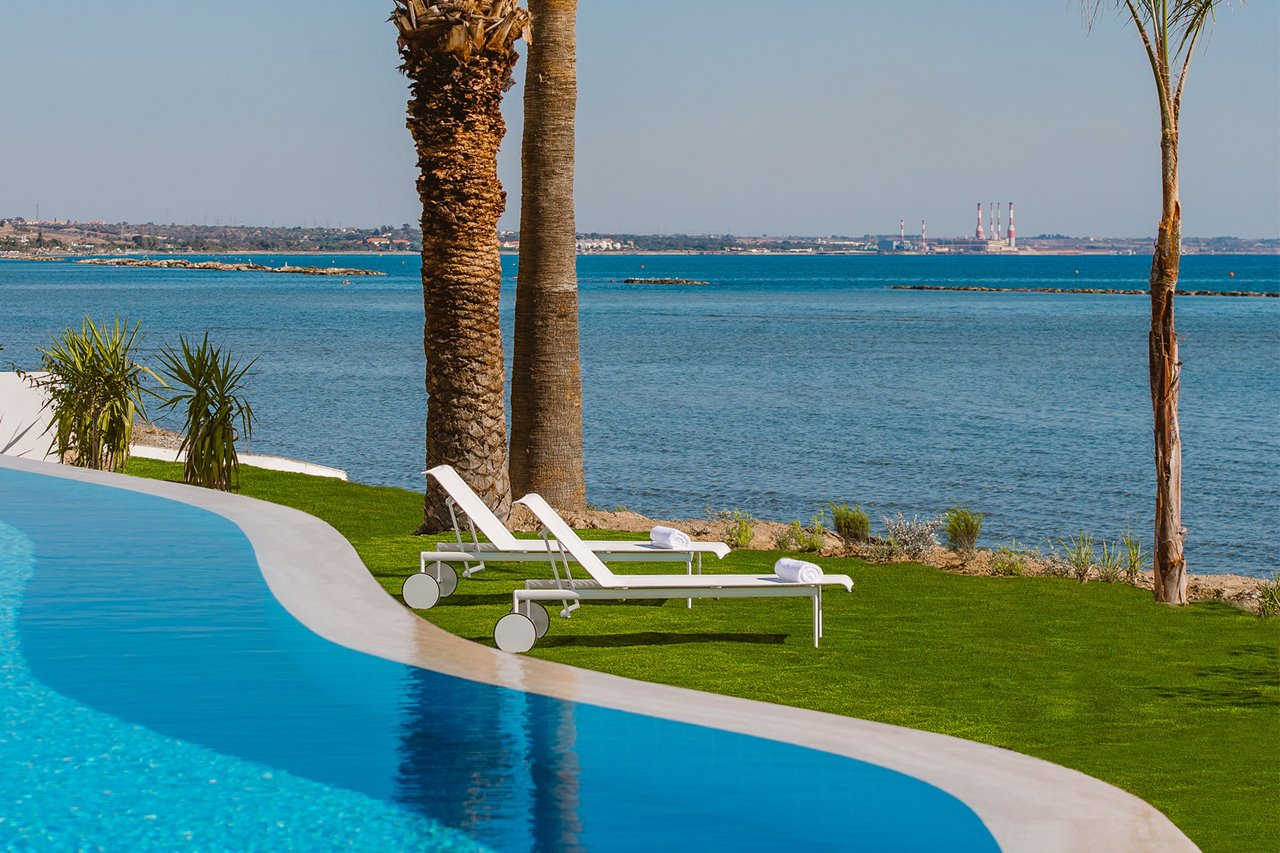 General Facilities
Guests can enjoy Mediterranean and International flavours and local products at the on-site restaurant. A pool bar and a lobby bar are also available on site. The wellness centre offers a variety of spa treatments, massages and cardio options in the state-of the-art fitness room, while free sun loungers are available around the pool. Shops and bars are within a short walk from the property and a bus stop can be found right outside.